So you have been staring at the same boring old advisor website since 2000 and have finally decided to engage with the design and copywriting team at Twenty Over Ten to create something that is more modern and professional to remain competitive in the industry. Great! Whether you're waiting to have your kick-off call still or are in the thick of the build process this post is a must-read!
While we've shared questions you should ask before hiring a design firm the 10 tips below will ensure a smooth path from ideation to launch when working with your entire Twenty Over Ten team. At the end of the day, we're all working toward the same goals. And while we want to get your site up and running as quickly as possible you too play a huge role in our process to achieve that goal.
1. Recognize There is a Difference Between Design and Copy
We placed this tip first for a reason – it's a critical building block to a great relationship with your Twenty Over Ten team. While this statement may seem like a no-brainer to some it's really important to first understand how our team is structured so that we can work effectively together.
Design and copy are both critical to your website's success and when used together effectively are a powerful combination. That's why our team of copywriters and designers are in constant contact because we know that the real magic happens when these creative roles work together.
our design team:
Determines the best visual concepts to use including photographs and animation
Discusses all work and updates during the revisions process
Shares the staging site and final product with the client
Supports clients in connecting their domain
Sets up integrations including Google Analytics, Redtail, Brokercheck, etc.
our copywriting team:
Adheres to grammatical and writing standards to develop content
Develops compelling copy to match the personality of your business and differentiate you from your competitors
Reviews/edits final product before sharing with client
Ensures best on-page SEO practices are put in place, especially if you are targeting a specific geographic location or a niche
Develops the architecture/sitemap for your website, to best present your content and boost SEO
If you have copy already created our copywriting team can help by reviewing your existing content, and determine where the copy needs to be pared down, summarized, or eliminated altogether
2. Never Apologize for Giving Us too Much Information
As an outsider to your business the more information you can share with us the better! From brochures to one-pagers, presentations and more it's best to organize all of these helpful documents into a shared folder via a file-sharing app for easy access across our entire team.
It's best to just throw all materials that you feel might be helpful in your shared folder and our team can sift through everything and determine which documents will be the most helpful to complete their work. If they have questions or need clarification on any specific documents they'll follow-up! We promise, we won't emulate Chandler: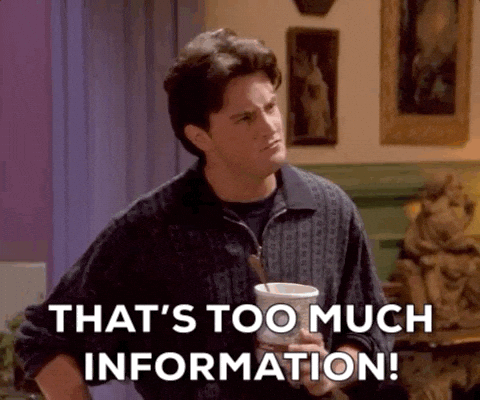 3. Give Your Key Differentiators Some Thought
There's no denying it, our team works with thousands of financial advisors. Before speaking with our team it's always helpful to clearly outline your firm's key differentiators. Not only does differentiation help our team but it will also help prospects visiting your site distinguish your firm from similar competitors and give them a compelling reason to work with you over others.
4. Iterative Design = Powerful Results
All of us at Twenty Over Ten view your website and digital presence as a living, breathing thing. As it should be! Your digital presence should never remain stagnant and your website plays a huge role in this as well. Rather than building your website in one fell swoop and clicking the "go live" button we like to tweak and improve as we go along. This is why we provide clients with rounds of revisions. But perhaps even more powerful than that — we give our clients full control to make revisions to their site once live and we make it easy as pie with our intuitive CMS and robust resources like webinars, support center and training guide.
5. We're Not Mind Readers
As much as we'd wish we could read minds or become magicians, we just aren't. But we are problem solvers! At the end of the day our job is to come up with a design that not only looks great but provides a long-term solution for your firm to build a brand online and generate leads.
This is why our process beings with a questionnaire or intake form. These forms help your designer and copywriter learn more about your firm and better understand your niche, goals, etc. So please don't skip this part! Additionally, our streamlined review process enables you to thoroughly review your site and start making notes about requested changes.
Building a new website is a collaborative process and if you don't provide your copywriter and designer with prompt and courteous feedback they won't be able to deliver what you're looking for. The more honest and specific you can make your feedback the better.
6. Have An Open Mind
View your first draft with an open mind, even if what's been created wasn't exactly what you had in mind. As we've already discussed, designing a website is a process and translating your vision into reality may not be a home run on the first try and that's okay. Your designer and copywriter are experts in this industry and also in digital best practices so tap into that and trust their expertise.
7. Think Outside The Box
It's true – the financial industry is plagued with blue hues and nautical themes. Don't be afraid to think outside of "the norm" when giving some thought to your color scheme or overall theme. Thinking outside of the box like this will not only help you stand out among your competitors but it will also intrigue your prospects and provide a memorable user experience.
8. Less Is More
At the end of the day, trust us – your prospects are sick and tired of visiting pushy "salesy" financial advisor websites that are chockfull of fluff. They want to read what really matters, find out what it is about your firm that sets you apart from the others and read the most important parts. They want to find this quickly without having to sift through fancy words that people in the financial business might not even understand well.
The same goes for the design of your website. Your designer wants to express only the most essential and necessary elements of your business and the services you provide by stripping any excessive and unnecessary features that may be distracting or cause a broken user experience.
9. Avoid Too Many Cooks in the Kitchen
Whether your firm has hundreds of team members or just five, deciding on who should be involved in your website project, plays a critical role in keeping your project on track. We always recommend including key decision-makers from your team such as members from marketing and/or high-level/executive. However, including too many people or the wrong team, can lead to a mashup of opinions and can lead to major delays in your project timeline. It's also a good idea to designate a point person who will "own" the overall relationship and communication with your designer and copywriter.
10. No Question is a Dumb Question
When you're just starting to build your advisor site, the options for design elements can be super overwhelming. As a financial advisor, there's a good chance you haven't gotten into the nitty-gritty details of different font families or color combinations and that's okay – that's why we're here! No question big or small is silly and most of the time these questions bring up great discussions that will make your new website stronger and leave you feeling more empowered and satisfied. So ask away!
The only stupid question, is a question that is never asked.

― Ramon Bautista
Struggling With What Content to Share on Social Media or via Email?
We are offering access to our content for advisors to use via Lead Pilot for 7-days completely free (even on our month to month plans).