There are many ways to use social media. For most people, it's to take a break from the day, catch up with friends and family or socialize.
But for Advisors, social media is used to attract leads and build a following. Common platforms like Facebook, Twitter and LinkedIn give advisors different approaches to communicate with their audience.
But when a new social media platform emerges, a lot of questions come with it. 
Clubhouse, a relatively new app to the social media scene, has received a lot of attention. And, as this survey from Courtney McQuade points out, most individuals aren't aware of the Clubhouse platform:
So, what is Clubhouse? Should advisors focus their social media schedule on it? Read on to learn the pros and cons of Clubhouse for financial advisors.
What is Clubhouse?
Clubhouse is an invite-only app that allows users to create live, audio-only rooms to discuss any subject they want. Users can join a room to listen in, though may only speak if they are unmuted by an administrator by using the "raise hand" feature.
The app debuted in 2020 by inviting a large range of celebrities, investors, influencers, CEOs and thought leaders from a variety of industries. And, since the platform is invite-only, it slowly grew from there to a whopping 10 million users:
Clubhouse creators Rohan Seth and Paul Davison designed their app as a response to the detrimental effects of social media. Many of the drawbacks of other platforms were stripped to allow transparency and a sense of community. Instead of typing onto a thread, audio-only communication and recording restrictions (though not always followed) make conversations feel more real. And small design features, like a peace sign on the "leave room" button that reads "leave quietly", add a sense of positivity and casual communication.
Though attention to the drawbacks of social media is certainly a step in the right direction, Clubhouse is still in its growth phase and has some notable drawbacks. The invite-only nature of the app makes the platform feel exclusive, though could limit growth potential, despite the above stat. This, in combination with the operating system limitations of the app (which is only available on Apple devices), could reduce the pool of potential users. Lastly, Clubhouse's success has garnered the attention of older social media platforms, which are now developing or releasing their own audio-only chat functions.
Clubhouse Pros and Cons for Financial Advisors
Clubhouse could be a benefit if you have the time to focus on another social media channel. But whether your firm uses the app will depend on your personal situation. Here are a few things to consider:
1) Accessibility & Transparency
Conversations on Clubhouse aren't edited or filtered out, and as long as administrators pick them, visitors are able to speak. The platform's format allows natural conversations to occur. And, along with Clubhhouse's growing roster of celebrities, never before have social media users been able to connect so easily with industry leaders:
Pro
Clubhouse offers advisors two main advantages. First, though not directly business-building, the platform can be a window into the finance industry, allowing direct access to public figures and learning experiences. Second, advisors can create their own rooms to discuss any topic they wish while ditching the script to enable a more authentic conversation. This could result in a following of your own over time.
Con
The advantages of natural communication with strangers comes at a price. Advisors and hosts will have less control over the direction of the conversation and should be prepared to answer unexpected questions. This may be similar to a webinar, but webinars provide a text-based chat that often has an admin to answer questions, not the host.
If you do invest time in Clubhouse, make sure to be fully prepared for any topic you select to cover, the occasional unexpected question is unavoidable. Even if you can't answer it that's fine, as in some ways it can increase the authenticity of the conversation. Being prepared however should be the primary concern.
2) The App Is Still Growing
Clubhouse is new. Just arriving in 2020, and steadily growing as we move further into 2021. The platform has acquired a larger audience over time, with around 2 million active users a week. And better yet, the platform continues to adapt to improve content:
Pro
The newness of Clubhouse shouldn't turn advisors away. Yes, you may reach fewer users, but a new platform also means room to build a following, especially if you discuss topics not being covered by others or engage in a conversation with well-known figures.
Con
The advantage of fewer users is always coupled with the disadvantage. As noted above, your content will have less reach, and your rooms are not permanent, meaning building a following could take a while.
3) Competition Is on the Way
Clubhouse has been without a doubt successful. And with the ongoing support of well-known investors, it's expected to continue growing. But Clubhouse's success has also attracted the attention of longstanding social media platforms.
Just as Instagram and Facebook focused more on video during the growth of Tik Tok, platforms are now focusing more on audio communication channels like Clubhouse. Most notable amongst these is Twitter's Spaces, and even then, Facebook is reportedly creating a similar product to Clubhouse.
Pro
Competition from other social media platforms lets advisors tap into their current audience instead of building a new one. Best of all, most advisors use the big three, Twitter, Facebook and Linkedin, the source of most of Clubhouse's competition.
Con
The biggest competition issue for Clubhouse is its restrictive nature. Only available on iPhones, Clubhouse misses out on roughly 131 million Android users. And for most advisors audience, this could be an issue, especially since Android phones are more common amongst those 55 years and older, according to PaymentsJournal.
In terms of limitations and competition, it may be best for financial advisors to wait for their favorite social channel to develop their version of audio communication. But the most limiting factor for advisors is actually the restriction of Clubhouse to iPhone, as Android is the most common phone amongst those 55 years and older. However, waiting would also mean missing out on the freshness of Clubhouse and the increased potential for brand recognition.
4) Time investment
Though not always the best, the amount of time a user spends on a social media platform usually shows how engaged they are with it. And, Clubhouse users are no different, as many spend a good amount of time on the app: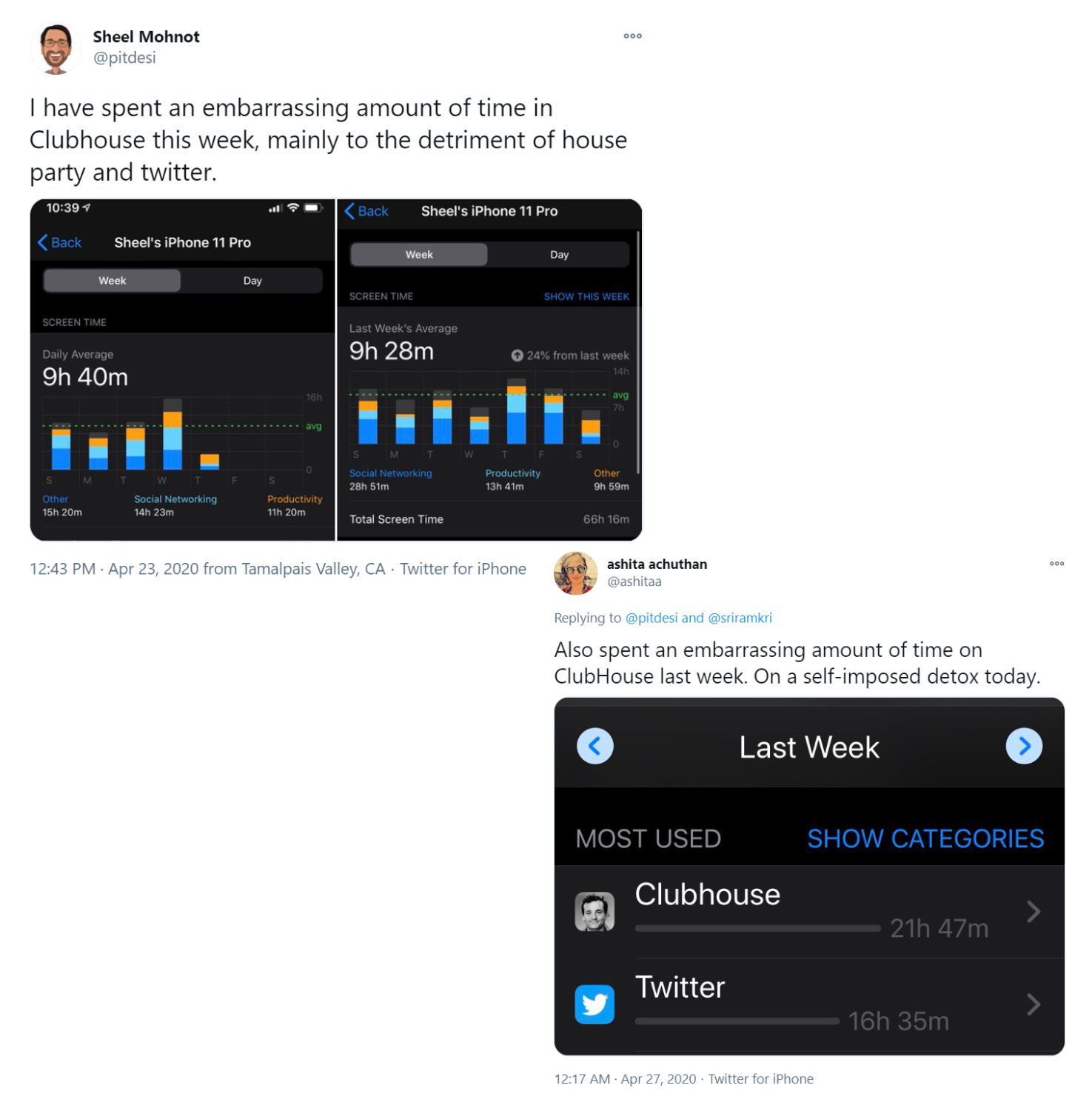 Pro
Unlike other platforms where your content has a high chance of being lost amongst constant shares. The engaged, and relatively limited user base of Clubhouse means there is a higher chance of your content being discovered and enabling the growth of a following.
Con
Since rooms are not recorded, and there is no way of listening to conversations after-the-fact, advisors may need to spend a good amount of time on the app in order to engage their audience.
5) Invites and Responsibility
The invite-only nature of the app has generated a lot of attention and is a factor in its steady growth. At the moment, users can only invite two other individuals. And though there is a waitlist for the app, the wait time often varies.
Pro
The invite-only approach makes the app feel exclusive and most-likely played a part in enabling one of Clubhouse's biggest advantages, access to multiple well-known and celebrity figures.
Con
The biggest challenge with the invite system is who you invite. There have been cases where a Clubhouse user breaks the terms of service for the platform and is banned as a result. No surprise there, except that the original user that invited them is also banned in turn. This can make it risky for anyone attempting to use social media as a business-building platform. So make sure any invites you do send out are sent to people you trust.
Is Clubhouse Right for You?
Clubhouse could act as a supplement for in-person events. Similar to podcasts, radio shows and webinars that other advisors have used, and its exclusivity could be an opportunity to avoid competition. This could give advisors without a following an opportunity to attract one, then draw that following to other social channels. Unfortunately, at the moment, advisors with a following may not want to use Clubhouse, as their current followers may not be able to access the app.
In addition, many financial advisors already have a tight schedule, so having another social media platform to worry about might not be worth the time investment unless Clubhouse is used to replace something else. However, the biggest challenge before all of this is going to be getting an invite.
Clubhouse is expected to open up to everyone and become available on other devices with time. And with other social media platforms creating competition, the best bet for most advisors might be to wait and keep an eye on the app as it continues to grow. 
How To Get an Invite To Clubhouse
Online forums can be a location for finding an invite to Clubhouse. But a better bet would be to use your current social media accounts to request an invite from someone you know. Some individuals are requesting payment for their invite, and there have been a good number of scams as a result. So always be careful.
Lastly, you could apply for the waitlist. But the list opens and closes, can take some time, and requires someone to give you access. Combining both approaches while reaching out to other social media channels might be the best, as a Clubhouse user could approve you on the waitlist without using their invite.
Wrapping It up
New social platforms bring new opportunities. Understanding the pros and cons of a platform is important before investing your time, and Clubhouse could certainly help attract leads. But it is one of the multiple options available to advisors. Your choice to use the app will depend on your firm's personal situation, and if you find that the advantages above fit into your social media strategy, then Clubhouse could be a great opportunity for growth.
Struggling With Building Your Brand?
We are offering access to our content for advisors to use via Lead Pilot for 7-days completely free (even on our month-to-month plans).
About The Author
Stuart Farst
Stuart is a Content Marketing Specialist at Twenty Over Ten and enjoys creating content that both entertains and educates. A Game Designer at heart, he can be found pursuing one of his many hobbies during his free time.