While this post was written specifically for Financial Advisors, anyone can utilize the information below to learn about using Facebook Live for their business!
What Is Facebook Live?
From moms in Chewbacca masks to storm chasers facing off against tornados, Facebook Live is quickly proving its power to win a sizable number of viewers, comments and shares in the short time since it's unveiling. What started as a way for celebrities to share behind-the-scenes live video is now turning into a great marketing tool for businesses and brands of all sizes.
As 2016 is the "Year of Video", and more businesses continue to capitalize on video to win audiences, we predict Facebook Live only becoming more and more popular. Facebook Live, like Snapchat, is appealing in part due its informal, instant video production and and quick consumption aspect.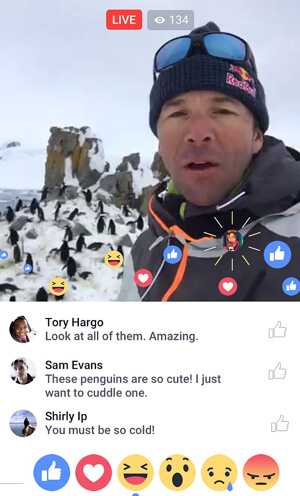 Live is the best way to interact with viewers in real time. Field their burning questions, hear what's on their mind and check out their Live Reactions to gauge how your broadcast is going. – Facebook
Facebook Live video is video that is taken "on the spot", anywhere you are – and therefore by nature, most users simply use their iPhone to shoot. This allows almost anyone to jump into the game and try their hand at posting a live video, since the pressure is off to produce a high quality video and there is absolutely no editing or production time needed.
It is still early, but even Facebook itself is surprised by how well Facebook Live has taken off. According to Facebook, People comment on Facebook Live videos 10x more than regular ones
How Is Facebook Live Different from Periscope?
One of the biggest ways Facebook Live is different from Periscope is the built-in Facebook privacy filters. Unlike Periscope where your video is available to anyone following in the app or online, Facebook Live Video can only be seen by the people you choose.
This makes sense, since Facebook bills itself as a "Friends and Family" Network. But also consider how many of the people in your network are on Facebook every day, multiple times a day –  why not reach your audience where they already spend so much of their time?
You're much more likely to get users to watch a live streaming video if they are already on the website in which you are posting that video.
Why Should You Use Facebook Live as a Financial Advisor?
TIME: If you create any type of content for social media (which you probably do), consider that the time it takes to live stream is negligible in comparison to anything else. How long does it typically take you to write a blog post? 15, 30, 60 minutes? In comparison, consider that you could pick up your iPhone and record a video that answers a few common questions or gives a quick tip in less then 5 minutes. That's a lot less time than what it takes to write a blog post on the topic, create a graphic or even compose a tweet in some cases.
RAPPORT: Studies have shown that on average, a potential client (this includes referrals) are likely to check you out online multiple times before actually reaching out to schedule a meeting or phone call. Video is a great way to connect with others – it allows viewers to see you, hear your voice, and watch all of the little non-verbal cues that nuance our communication. In short, video allows potential clients to see the "real" you – not a staged version you use to market your services. Any video is great, but live video is one step better because by its very nature it is informal unscripted.
WE PREFER VIDEO CONTENT: According to Jakob Nielsen, users only read 28% of words when visiting a website. Visual content engages with a reader as fast as possible and in the most interesting way and that's why publishers tend to rely on it even more every year. More reasons (from Search Engine Watch):
It beats our short attention span
Its simplicity is tempting for any subject
It manages to engage with the reader and increase the time spent on content
It manages to communicate complex concepts in an appealing way
Its appeal increases the chances for the readers to share the content
It stimulates our minds, especially when it is linked with an emotion
How To Shoot A Great Facebook Live Video 
First, follow Facebook's expert tips for shooting Facebook Live. Also, decide whether to hold the phone yourself or use some type of mount. For the live video, you can use either the front- or rear-facing camera. Choose a spot that has a strong broadband connection (We also suggest setting up call forwarding to avoid distractions during your broadcast).
Now You are ready to get started on Facebook –
1.First, open up the status bar as if you're going to make a new status update or post. In the bottom right corner you'll see an icon of a human figure. That's the "Live" button. Press that to start prepping your Livestream video.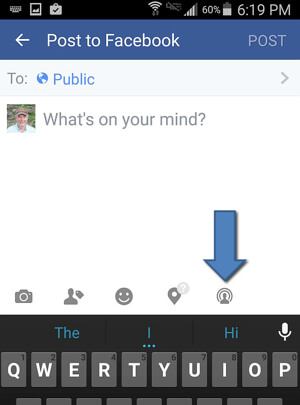 2. Next, choose who will see your video. You can choose everyone on Facebook, only your friends or just you. You can also write a description for your Livestream during this prep phase. Once your stream is going, other Facebook users will be able to comment on your video in real time. If you've made your video public, you can control who gets to comment on it. If you want to practice before you go live, you can set your privacy to "only me".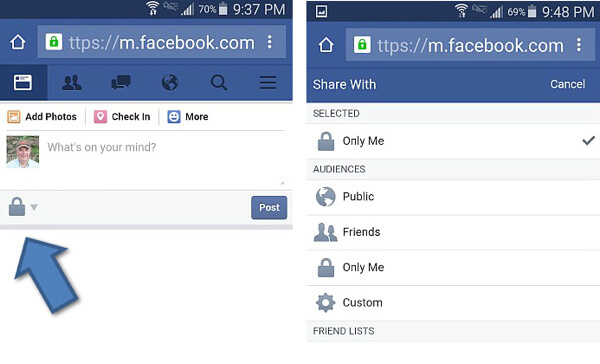 3. Go LIVE! Here are some ideas and topics to get you started:
Give a behind the scenes look at your business. Share a tour of your office space, how your team works and relaxes, etc. People love watching everything that's typically off limits.
Do a Q and A. One of the most simple, and most-watched type of Facebook Live Video is simply someone in front of the camera, answering questions in a conversational way. As a financial advisor, this is the perfect vehicle to answer common questions or share information that helps to prove your value and expertise. Just keep it short and sweet – come prepared to talk about one topic, and then answer any viewer questions that come in Live related to that topic.
Broadcast live events. Attending a conference or presenting at a seminar? Share it live! But don't forget to engage with the audience while you're filming. Walk and talk them through every bit of it — and answer the questions that are sent your way.
Host interviews: Interview your company's employees, other professionals you work with, or important people in your niche. Brands are all about the people that are a part of it, so let these people speak and your audience will listen.
Beyond the iPhone – the Mevo Camera for Live Video
As we discussed, using your iPhone to shoot Facebook Live video is great, however it you start to regularly shoot and post Facebook Live videos for your business and want a more professional option, it may be worth looking into a camera like the Mevo,-it's like having access to multiple cameras in one device.
3 Cool Things About the Mevo Camera: 
Live Editing (edits your video live while you're shooting on Facebook Live!)
More Professional look (no shaky iPhone footage)
Works directly with your mobile device – no complicated setup or need to download the video after – everything syncs together live
Mevo is the first standalone camera that can directly integrate with Facebook's live streaming service, and it packs the power of a professional crew into a portable, unobtrusive camera that won't distract from your event. The Mevo camera also makes it easier than ever to capture excellent video AND sound, one of the oft-neglected aspects of shooting live.
For more on the Mevo, check out Bill Winterberg's coverage and review of the Mevo, specifically for Financial Advisors:
The Mevo will be made available later this summer. Pre-orders are available now, and shipping will begin in July 2016. If you pre-order, you'll receive $100 off the $400 retail price. 
More On Facebook Live
More From Bill Winterberg:
Other review for Content Creators from the 2016 NAB Show: Sennheiser AVX Digital Wireless Camera Microphone 
Sign up for a live product demo or view examples of advisor websites we have created. Then, get in touch to schedule a time to chat with us!